Where the Spirit is in the Water!
UNLIKE THE RIVER I AM THE SEA
IF YOU LOOK CLOSELY
YOU WILL ALWAYS SEE ME!

HOME
Join the warm and friendly people of the Sea Islands Black Heritage Festival (many people, many islands)! Hold the hands of love around the globe!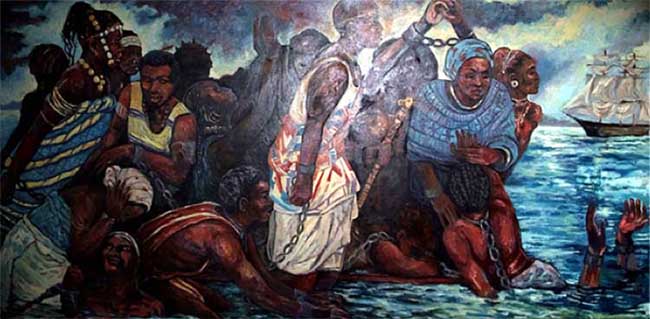 "Ebo Landing" by Dee Williams
The wisdom, beauty, fortitude of our ancestors, a proud and brilliant people, left an indelible heritage in the universe from Africa to the Caribbean, Mexico to Central America, the coast of North America to the lands of South America, and throughout the world. The African struggle for self-determination over the centuries uniquely developed communities of cultures that helped in every aspect to define the world. We celebrate and honor our ancestors, our ESTEEMED KIN!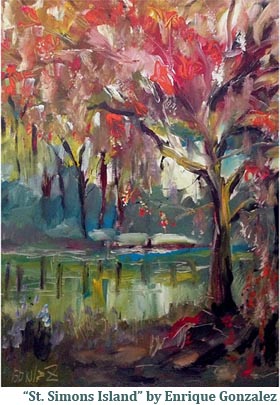 Howard Dodson reminds us that it was the peopling of the Americas with Africans, who formed much of the human foundation on which the Americas were built, and whose presence and activities were of key importance during the formative period of the new nations. In the necessary process of re-creating themselves in their new milieu, these Diasporan Africans invented and participated in the inventing of new cultural forms such as languages, religions, foods, aesthetic expressions, and political and social organizations.
Economic historian Joseph Inikori in agreement with Dodson and using quantitative data to support his contentions, states that for the three and a half centuries between 1500 and 1850, it was the labor of African peoples enslaved in the Americas that was at the center of the economic development of the Atlantic world. During this period, large-scale commodity production in the Americas transformed the Atlantic Ocean into the busiest trading mart in the world, with trade among European countries depending heavily on American products. It was the forced migration of Africans to the Americas through the slave trade and the forced labor of their descendants in the Americas through the plantation system that made this large-scale production possible and profitable. Inikori states that, "According to recent estimates, 75 percent of the American products traded during the period were produced by Africans and their descendants in the Americas."
Howard Dodson, Former Chief of the Schomburg Center for Research in Black Culture of the New York Public Library
Joseph E. Inikori, Ph.D., Professor, History Department, University of Rochester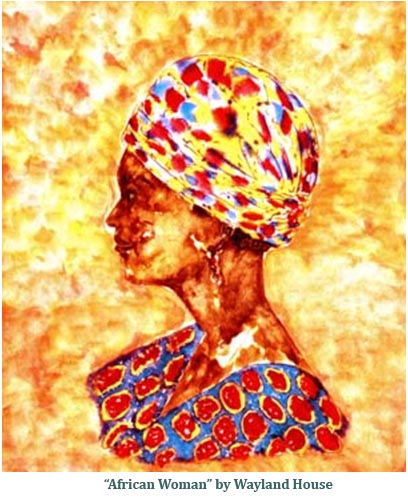 PERFORMERS
MUSIC DIRECTORS:
CEDRICK FRASIER, ANGELA LINDSAY


GUEST PERFORMERS: (In Alphabetical Order)

EUGENE ARMSTRONG Drumming for Universal Love

TRAVIS BROWN Remembers John Coltrane, Dexter Gordon

ROSLYN BURROUGH Remembers Sarah Vaughan

CHOSEN VESSEL Spirit Dance

COASTAL YOUTH THEATRE OF VOICES Remembers The Underground Railroad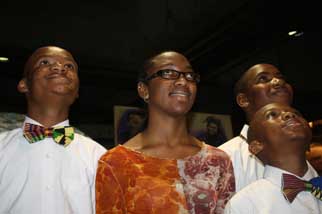 KAREN DANIELS Jazz Flutist

GA GEECHEE GULLAH RING SHOUTERS , Storytellers Telling Lives of the Ancient

TRAE HICKS & FAMILY The Steel Guitar Remembers Michael Jackson and Frankie Lymon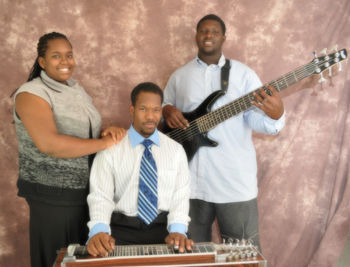 JAMIAH HUDSON Sings Etta James, Billie Holiday

NATALIE MOORE Sings Marian Anderson

SHERYL RENEE Sings Musical Legends

SMOOTH JOURNEY BAND Forever Jazz

GARY SWINDELL Sings and Plays the Blues

VICTORIA WARD Love is Whitney Houston