~~ Home ~~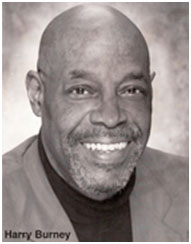 Harry Burney
, Creative Consultant for Bethune-Cookman University's Performing Arts Center, Daytona Beach, Florida. He has also served as Show Director for "Harambe Village," Disney's Animal Kingdom.
Burney
achieved recognition for his unique approaches to teaching multi-cultural education. He is sought after as a consultant/clinician and scholar by school districts, universities, and government agencies. He is known as the "Song & Story Man,"
Burney
has appeared in stage productions, concerts and operas around the globe, with television shows, commercials and films listed among his many credits. He was featured as a Choirmaster in the film "Autumn in New York" starring Richard Gere and Winona Ryder. An animated HBO feature, "Jammin Animals," showcases Burney's voice and he was featured at NYC's Symphony Space recently in "Wall-to-Wall Weill." He appears on Nickelodeon daily as Ellington in "
Allegra's Window
," and was seen as Mr. Dawson on a Nickelodeon show called "Kenan and Kai," plus served as acting coach for the Nickelodeon show
"My Brother and Me."
Burney's career includes Broadway, regional theatre, television and film. His stage work includes Jim in "
Big River
,"Joe in "
Showboat
,"Scrooge in "
A Christmas Carol
," the King in "
The King and I
" - with featured performances in "
Ain'tMisbehavin
" and "
The Desert Song
." His dramatic roles include Troy in August Wilson's "
Fences
" and Hoke in "
Driving Miss Daisy
." Burney was commissioned to write a play "Discover." about Ponce de Leon by the Cummer Museum of Art and Gardens, and was funded by the Florida Arts Council to write
Fort Mose: The Odyssey of Francisco Menendez
.Burney has also created theatre programs for Camp Boggy Creek, an affiliate of Paul Newman's Hole in the Wallgang camps.